RFID Wristband Waterproof
Material:Silicone
Size:55mm, 65mm, 74mm
Crafts:Laser (Logo, UID, Serial NO.)
Frenquency:
LF (125KHZ): TK4100,EM4200,EM4305,T5577
HF (13.56MHZ): FM 1108, s50, Ultralight,I code2, Ntag 213
UHF (915MHZ): Alien H3
Color: red,orange,yellow,green,blue,black
Non-toxic, enviornment-friendly, non-corrosive, anticoagulant, degradable,disinfection is allowed
Perfect Choice RFID Wristband Waterproof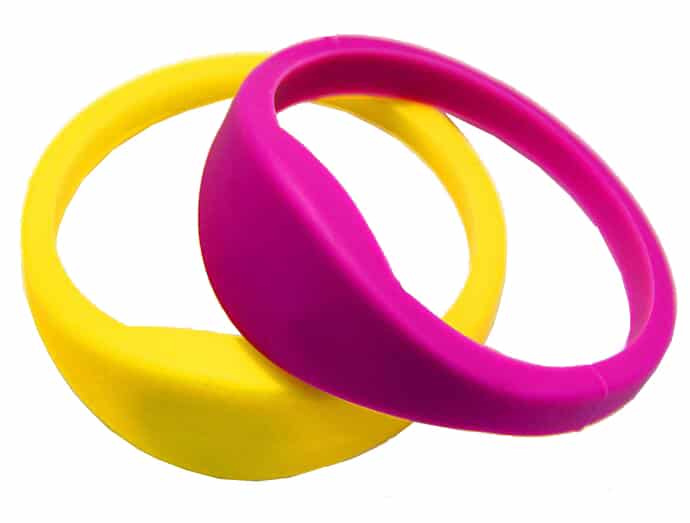 RFID Wristband Waterproof
Indoor swimming pool is a good place for people learn swimming, more and more parents take their children to the indoor swimming pol learning and training when the children were very young. Especially in summer afternoon or evening, the indoor swimming pool is full of person. However, how to control the quantity and give learners a good environment? make an appointment is important.
According to the area of the swimming pool, calculate the saturability, control the total number of permitted person. Such as max 50 person at one time, only 50 pcs waterproof rfid wristband can be distributed, without the rfid wristband can not get access to the pool. In order to save learners' time, everyone before coming should make an appointment about the time and coach. When they scan the wristband, the manager can clearly know the time and coach they appointed, in this way, time and coach arranged properly. Will not waste learners' time by endless waiting.
Really, the waterproof rfid wristband out of the question can be the key to the storage lock.
A little smart rfid wristband to a certain degree helped to control the water quality, improved the learning environment and learners' experience.
Contact Catherine Now:
Catherine@zbtechsz.com