RFID Wristband Technology
Material:Silicone
Size:55mm, 65mm, 74mm
Weight:16-18g
Crafts:Laser (Logo, UID, Serial NO.)
Frenquency:
LF (125KHZ): TK4100,EM4200,EM4305,T5577
HF (13.56MHZ): FM 1108, s50, Ultralight,I code2, Ntag 213
UHF (915MHZ): Alien H3
Color: red,orange,yellow,green,blue,black
Non-toxic, enviornment-friendly, non-corrosive, anticoagulant, degradable,disinfection is allowed
Perfect Choice RFID Wristband Technology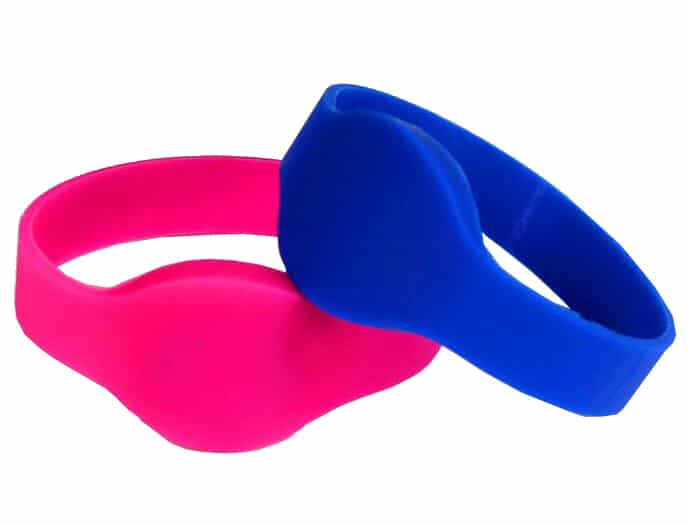 RFID Wristband Technology
 protect your privacy
Your children's students' card always displaying the name, age, photo and even which classes. However, you do not want all those information to be exposed, it's very dangerous get it by someone who are hatch a sinister plot.
How to balance the management in school and protect the privacy of students is a big issue. After school principal thinking over, determined RFID Wristband technology to help.
Using silicone rfid wristband instead of students' card, not easy losing, soft, comfortable, waterproof. No matter what's kind of weather, it's no influence. The most important is protect students' information from exposing. As for school, can manage students' attendance easily. Students' card close to the body, sometimes, hard to read, disturbed by human body. So that have to scan the card many times or even missing. But now, rfid wristband wear on hand, more convenient, the wristband can be closed to the reader as possible.
Even more, rfid wristband is durable than card, is flexible enough. Not like cards easy to bend and crack.
If your children still use card, please pay more attention or suggest such rfid wristband technology.
Contact Catherine Now:
Catherine@zbtechsz.com