RFID Wristband Tag
Material:Silicone
Size:235MM*32MM
Weight:16-18g
Crafts:Laser (Logo, UID, Serial NO.)
Frenquency:
LF (125KHZ): TK4100,EM4200,EM4305,T5577
HF (13.56MHZ): FM 1108, s50, Ultralight,I code2, Ntag 213
UHF (915MHZ): Alien H3
Color: red,orange,yellow,green,blue,black
Non-toxic, enviornment-friendly, non-corrosive, anticoagulant, degradable,disinfection is allowed
Perfect Choice RFID Wristband Tag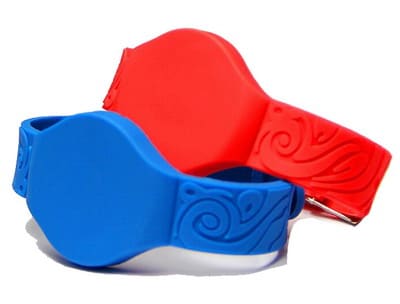 RFID Wristband Tag
Retirement home maybe is a good place for retired person get together, they can talk to each others even without their children's accompany. But there are some aged diseases can not avoid, how to make sure all those old people take medicine or physical therapy at the right time.
There must be distributed everyone an rfid wristband tag, encoded the name, age, and their urgent contact information. According to therapeutic schedule set the right time and measurement of medicine. The system will alarm when the time is coming, so the caregivers take the medicine to the right person, before take the pill, the caregivers should scan the rfid wristband tag to double check the information is the same as the system to avoid take the wrong. On the other hand, reading the contact information in the rfid wristband can inform their family at the first time once there any emergency things. Not like before, have to chek the list to find out the contact information.
An RFID Wristband tag make the old more safety, Safety will be in return for their children confidence,they will have no worry with our hard work. The old can enjoy themselves with their friends in the retirement home.
Contact Catherine Now:
Catherine@zbtechsz.com