Adjustable RFID Wristband
Material:Silicone
Size:235MM*32MM
Weight:16-18g
Crafts:Laser (Logo, UID, Serial NO.)
Frenquency:
LF (125KHZ): TK4100,EM4200,EM4305,T5577
HF (13.56MHZ): FM 1108, s50, Ultralight,I code2, Ntag 213
UHF (915MHZ): Alien H3
Color: red,orange,yellow,green,blue,black
Non-toxic, enviornment-friendly, non-corrosive, anticoagulant, degradable,disinfection is allowed
Perfect Choice Adjustable RFID Wristband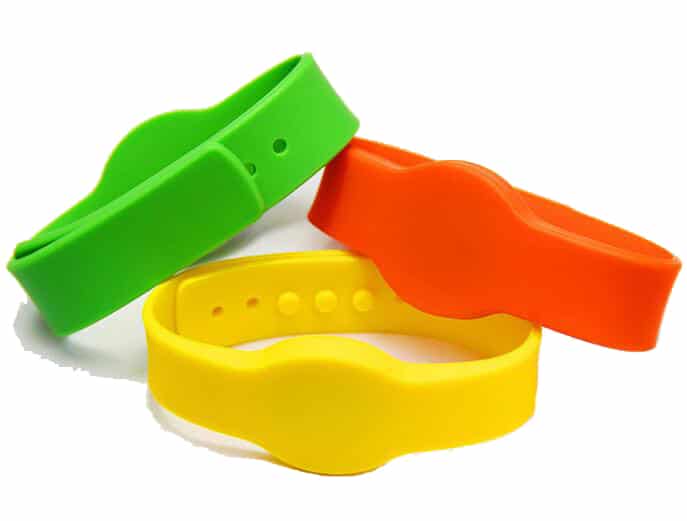 Adjustable RFID Wristband for Spa
More and more people enjoy their life, after finish the work of a day, they would prefer to go some spa or water spa to relax themselves totally. All kinds of essential oil would be a great helper.
In the spa, you have to store all your values, clothes, and the most troblue thing is you have to take care the key to the storage. if the key missing, you would lost all your valuable. when you want to pay for the bill, you have to pick out your wallet. also during the spa, it's easy hurt yourself with the key with careless, at this time, all your relax plan being complately destory.
Our technicists are so considerate, make such adjustable rfid wristband, once you entre the spa, adjust it with the most confortable size then relax yourselves totally. want to buy something, say goodbye to pick out your wallet, keep the post of lying, waiters will take the  handle hold rfid reader come to your place, you just wave your hand. congradulation, you earn a point for this consupition. Suprising?
Why this silicone rfid wristband is a good choice for spa? the most basic is waterproof, spa or water spa, out of questions. as we said essential oil is indispensable, if spot on the wristband, no worries, wash it. what's more, disinfect with alcohol make clients more confortable. will you apply such adjustable rfid wristband?
Contact Catherine Now:
Catherine@zbtechsz.com